Mountain holidays in Villnöss / Funes: in close contact with nature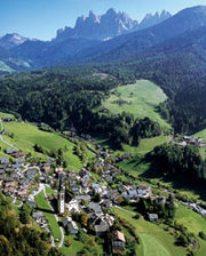 Villnöss / Funes is one of the most peaceful valleys in the Dolomites. This is the place for spending a perfect holiday in harmony with nature, surrounded by majestic mountain peaks.
The marvellous Geisler Peaks are the trademark of this Dolomite region. Their prominent pinnacles and craggy cliffs dominate the landscape. Because of their high limestone content, they are also referred to as the "Pale Mountains." Few valleys – in South Tyrol or even elsewhere – display such an abrupt transition from the gentle rolling foothills of the Eisack / Isarco Valley (home to many fine vineyards) to the impressive and rocky Dolomites.
Come and discover this wonderful mountain paradise! Get to know the idyllic Villnöss / Funes Valley, meet its people and experience its unique culture.
Imposing mountain summits, green Alpine meadows with blossoming wild flowers, an interesting fauna which you can observe in their natural habitat – the Villnöss / Funes Valley has it all.
The Villnöss / Funes Valley is also famed as a "Pearl of the Alps" and a resort region offering a wide range of vacation activities.
During your holiday at the Mühlerhof, you can look forward not only to a lovely break, holiday fun and great experiences at the heart of the mountains, but also to pleasant, gentle mobility which skilfully combines a walking holiday with a respectful relationship with nature.
Small buses will whisk you away to the starting points of the most beautiful hikes in the Dolomites.
The South Tyrol Mobilcard allows you to enjoy your holidays in the Dolomites to the utmost – without using your car. With the 7-day ticket (€22.00) you can explore the entire Villnöss / Funes Valley for a whole week and even make use of all public transport throughout South Tyrol.
But that isn't all: Since 2009, the Dolomites are also among the 50 most beautiful scenic places in Europe. They have been officially recognized as a UNESCO World Heritage Site – including the Puez Geisler Nature Park.

Everything close by
The village centre of St. Peter is just 400 m or five minutes on foot from our farm. Here you'll find – among others – a bakery (Bäckerei Gasser, mon to fri 6.30am – 12.00noon; 3.00pm to 7.00pm; sat 6.30am to 12.00noon), a market (Market Überbacher, 7.00am to 12.00noon / 3.00pm to 6.30pm) a Raiffeisenkasse bank, the Restaurant Viel Nois (closed on Mondays), the tourist office and a hairdresser (Salon Paula, closed on Mondays).
Leisure time facilities in the surroundings
Ski areas in the vicinity
Public Transport: