Summer
Hiking in Paradise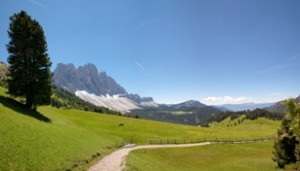 The valley features numerous established hiking trails and theme-based footpaths – but also challenging mountainclimbing routes and cable-supported climbing trails which will take you to the Peitlerkofel, the Geisler, and the surrounding Dolomites. And there are plenty of beautiful Alpine meadows where you can take a pleasant stroll.
Nordic Walking
There are six different Nordic Walking routes totaling about 100 km in length from which to choose. At the same time, you can enjoy the breathtaking view of the magnificent Geisler Group.
Mountainbiking / Bicycling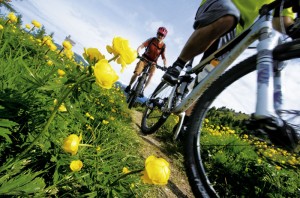 In a highly developed region like ours, mountainbiking is practiced almost exclusively on already-established trails originally intended only for agricultural and forestry activities. This reliably prevents damage to the natural landscape.
You have a wide variety of landscape types to choose from for your mountainbike tour, including relatively moderate grades and also steeper and technically more-challenging routes.
There are also numerous other fashionable sports available in Villnöss / Funes, including bowling, paragliding, horseback riding, and ziplining / freeclimbing.

The Puez-Geisler Nature Park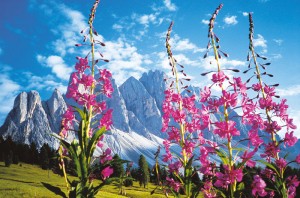 The "Puez-Geisler" Nature Park was founded in 1978. The mighty Würzjoch marks its northern boundary, while it is limited in the south by the Gröden / Gardena Pass. To the east, it extends to the Gader / Badia Valley (Kampill, Untermoj) and in the west, to the Villnöss / Funes and Gröden / Gardena Valleys. The northern part of the park is dominated by the Aferer and the Villnöss Geisler and the Peitlerkofel, while the southern part includes the high-altitude plain of Gherdenacia, Sassongher, Puez (with the Langen Valley) and the Cir Group.
The Puez-Geisler Nature Park was the last of the seven nature parks in South Tyrol to get a Visitors' Center. This center was inaugurated on December 29, 2009, and is a cube-shaped, two-story building made of papyrus-colored concrete located in the center of St. Magdalena in Villnöss / Funes.
The goal of the Puez-Geisler Nature Park Visitors' Center is to help visitors understand and enjoy the park better. There's an large aerial photograph of the park which visitors can walk on and use to experience the park from a bird's-eye perspective and obtain an in-depth view of the various landscapes comprising it.